Sneak Peek Into What's In Store For You
A step-by-step guide to understanding how you can bake vegan and gluten free desserts from scratch. 
The content will be released in parts during the first 2 weeks of the course.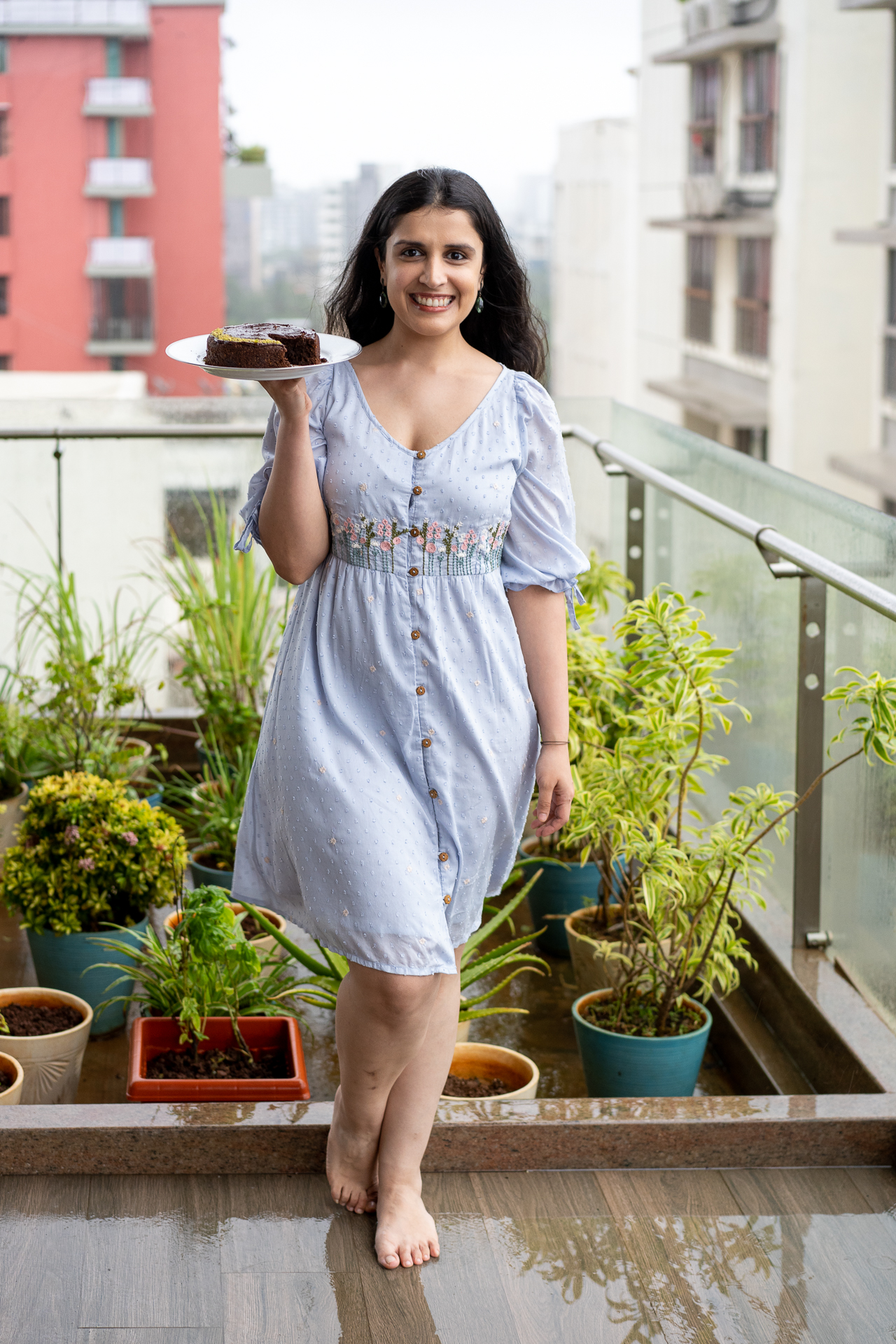 Raveena Taurani,
Founder & Head Chef, Yogisattva
Hi I am Raveena. Welcome to my page. Yogisattva is India's First Whole Foods Plant Based Culinary Academy combined with a Farm to Fork Cafe. This means I teach and retail Plant Based Food & Dessert.
In 2015, I suffered a severe spine injury combined with digestive distress which was later diagnosed as lactose intolerance. This led me on a journey to heal my spine through Yoga which is where I discovered Plant Based Food. From 2015-2019, I travelled across the globe from Bali to New York to all the way in Bath to experience the culture, food, heritage and lifestyle around Plant Based Cuisine. Through this journey, I gained an Advanced Diploma in Vegan Food as well as work experience that allowed me to gain better knowledge and understanding of Plant Based cuisine.
My goal through Yogisattva is to make healthy food that is tasty and easy for the body to digest.
Discover how to change your life one meal at a time with me at Yogisattva.
Course learning outcomes:
You will learn how to make 14 Vegan, Gluten Free & Refined Sugar Free Desserts which will include 7 Raw Vegan and 7 Baked Vegan Desserts from scratch.
You will understand how to work with different gluten free flours including learning how to make your own Gluten Free Flour Blend from scratch.
You will learn how to use Vegan Replacements for Egg in a recipe.
You will develop fundamental skills that will help you with all your Vegan & Gluten Free Baking.
You will learn different flavour combinations that you can work with.
You will learn how to make different types of desserts such as cakes, cookies, muffins, ice creams etc.
What are the requirements?
No prior knowledge of any baking is required, this course is great for beginners as well as intermediate bakers.
You should be excited to learn and absorb new information.
I would definitely recommend having access to an oven for baking.
While there are some basic baking tools required, I recommend waiting till you get started to decide what you'd like to include into your kitchen.
Who is this course for?
For Anyone & Everyone that wants to learn how to make healthy desserts.
For Absolute Beginners looking to learn how to make healthier desserts.
For Professional Chefs/Restauranteurs looking to add more Vegan Options to their existing menus.
For anyone who already makes healthy desserts and would like to expand their knowledge and understanding of the same to the next level.
Anyone with a passion for making and baking desserts that is excited to learn from a professional.
"Vegan & Gluten Free Desserts sounds difficult but Chef Raveena made it very simple for us. She explained everything from scratch and having no experience in baking, this was extremely helpful."
-Dimple Baharani, Indonesia
FREQUENTLY ASKED QUESTIONS


Q. What is the cost of the course?
The course is priced at INR 15000 to INR 19000 inclusive of taxes (approximately 200 USD to 265 USD), depending on which program you choose.
You have the option of purchasing the course for a 3-week access period or a 5-week access period. There is no difference in the content being taught, the only difference is the time extension you receive to complete the course comfortably.
Q. Are payment plans available?
There are no payment plans for the presale of the course.
Q. When does the course start and finish?
The course starts on February 1st, 2022 after that you will have access to the course till either February 22nd, or March 8th, 2022 depending on the plan you have chosen at checkout. Content for the course will be released within the first two weeks. It is a self-paced online course - you can work and learn at your own pace.
Q. What if I can't finish the course material during 3-week or 5-week access plan that I have purchased?
Reach out to us on [email protected] and you're welcome to purchase an extension of 2 weeks at INR 5000 (70 USD approximately) additional exclusive of taxes.
There is no refund provided under any circumstance.
Q. Will this course give me a better understanding of Vegan & Gluten Free Desserts?
If you show up and do the work, I am confident you will achieve the same.
Q. How long do I have to access the course?
The course content is released within the first two weeks. After that you have an additional week till February 22nd, 2022 or an additional 3 weeks till March 8th, 2022 to access the course. If you do not manage to finish the modules within these dates, please reach out to us on info@iamayogisattva.com and you're welcome to purchase an extension.
Q. What recipes will I learn in this course?
You will learn 14 Vegan, Gluten Free & Refined Sugar Free Recipes in Total such as:
1.  Vegan Nutella
2.  Matcha Donuts with a Matcha Glaze
3.  Cacao Fudge Cake
4.  Raspberry Peanut Butter Cups
5.  Salted Caramel Crunch Bars
6.  Carrot Cake
7.  Raw Vegan Tiramisu
8.  Vegan Cookie Dough Ice Cream
9.  Earl Grey Lemon Cheesecake
10. Banana Bread Loaf
11. Peanut Butter Cookies
12. Apple Crumble Muffins
13. Red Velvet Cupcakes
14. Maple Pecan Brownies
Q. What equipment/tools will I need to complete the course?
An oven is definitely an essential part of the course. A break down of what you really need to get started will be provided and you can choose from there.
Q. What sugars are used if the course is refined sugar free?
 This course uses the following sugar substitutes for the recipes demonstrated:
·     Unrefined Coconut Sugar
·     Jaggery (Cane Sugar) Powder
·     House-made Date Paste and Dates
·     Grade A Organic Maple Syrup
Disclaimer: We do not use stevia and erythritol as sugar substitutes in this course at all. Chef Raveena is a certified Culinary Nutritionist and based on her years of research, these sugars although don't have calorific value prove to cause a lot of digestive distress in the human body due to the overly processed nature of the sugar itself. The course includes a lecture about sugar as well.
Q. When will I receive my certificate?
You need to prepare 3 Raw Vegan & 3 Baked Desserts that your learnt from the course curriculum and submit pictures of the same via email on [email protected] within the course period to qualify for your certificate.
Once this is received your certificate will be automatically issued and sent to you digitally.
Have more questions? Shoot me an email at info@iamayogisattva.com and my team will take care of you.
Check your inbox to confirm your subscription